Diagnosis of Chicken Anemia Virus Infections
Clinical signs in young chicks are indicative of CAV infection but laboratory tests are required for a definitive diagnosis.
Clinical signs
Diagnosis on the basis of clinical signs is very difficult. Very often the clinical disease may present itself in milder forms making it impossible to make a proper diagnosis.
Post mortem findings are often not conclusive.
Laboratory tests
Laboratory tests to identify the viral genome, antigen or antibodies are required for a definitive diagnosis.
Testing serum samples for example at the time of the clinical signs and some weeks (2 or 3) later provide the best basis for serological diagnosis. This is also applicable for monitoring vaccination results. The retrospective testing of sera from breeders could be done in cases where vertical transmission is suspected.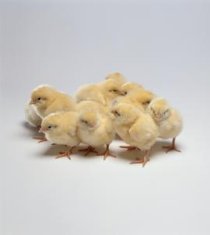 Laboratory tests are required for a definitive diagnosis of CAV infection in chickens.
Merck Animal Health headquarters
---
Go to the Merck Animal Health website to find out more about the company and read about other innovative products available.