Nobilis AE+POX+CAV
Nobilis AE+POX+CAV is a live multivalent vaccine. Each dose contains Avian Encephalomyelitis Virus Calnek 1143 strain at least 3.0 log10 EID50, Chicken Anemia Virus strain 26P4 at least 3.9 log10 TCID50 and Fowl Pox Gibbs strain at least 2.7 log10 EID50.
Indication
Active immunization of chickens for the prevention of disease due to Avian Encephalomyelitis Virus, Fowl pox virus and Chicken Anemia Virus. the Avian Encephalomyelitis Virus and Chicken Anemia Virus portions prevent disease due to avian encephalomyelitis and chicken infectious anemia in progeny of vaccinated breeders.
Administration
The vaccine should be administered once to breeder chickens via the web stick method from 8 weeks of age onwards but not later than 4 weeks prior to the onset of lay. The two needle applicator is used for administration. Approximately 0.01ml suspension is used per chicken.
Presentation
2 vials
Vial 1: 10 ml glass containers
Vial 2: 20ml glass containers
The vials are closed with a rubber stopper and sealed with a coded aluminium cap.
Vaccination schedule
Vaccination is possible from 8 weeks of age until 4 weeks before onset of lay.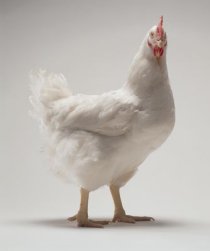 Merck Animal Health headquarters
---
Go to the Merck Animal Health website to find out more about the company and read about other innovative products available.